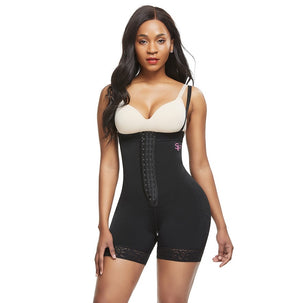 Surgical Faja Black Strap
This post-surgical compression bodysuit features a front clip closure and sleek black color, helping your body heal and look great after tummy tucks, butt lifts, or other cosmetic surgeries.
The compression garment is made of comfortable, stretchy material for all-day wear.
The bodysuit features straps to help secure the garment.
Wear this suit for any cosmetic surgery of the stomach, hips, thighs, or butt.
Get the look you've always wanted, and keep it that way, with this post-surgical compression garment from Slimiee Fit. The durable, comfortable material is easy to wear and fits smoothly below any outfit for a sleek look.